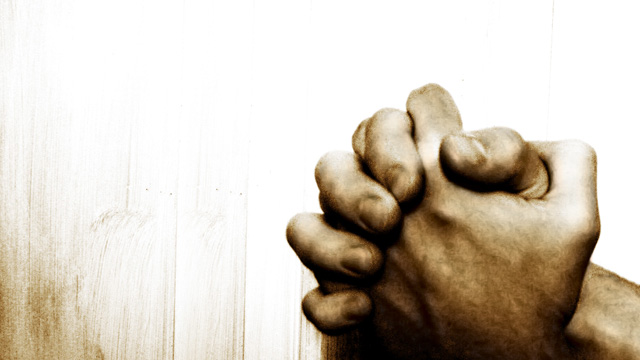 Being a parent, I frequently find myself reflecting on my own childhood more heavily. I stroll Memory Lane, revisiting hard lessons learned and moments of easy laughter, contemplating how to best guide my daughter in this life. One memory, or subset of memories, resonates when I do. 
I am in Kindergarten or first grade. I'm sitting in the passenger seat on the way to school. My dad tells me that it's time to pray and to close my eyes. Frustrated, I protest that he isn't closing his eyes. Obviously, he was a superhero and could drive a car without visual input. We settle the eyes opened/eyes closed case, and the prayer commences, whether it's him or me serving as the orator. This was routine, a daily dyad, between a dad, a daughter, and a Father.
I find myself revisiting this memory today, on National Day of Prayer.  What a day to celebrate and apply to our lives, and more so, the lives of our children. Recently, I had to fill out a "get-to-know-you" type sheet that asked the best advice you had ever been given. This was difficult, as growing up in the South, you receive hoards and hoards of good-intentioned advice. Yet, when I went to fill in my response, I stated any advice that my parents had given me about prayer, its frequency, and its power and effectiveness as it had impacted my life the most abundantly.
 While I hope that Ann Leland grows to appreciate the simple treasure found in a chocolate dipped cone, the power found in a good pair of leopard print shoes, the creativity and fall-filled adventures found in the month of October, and the simultaneous wonder and humility found when standing at the tip of an ocean, I hope, more than anything, that she understands, cherishes, and applies the routine, the daily dyad, found between a daughter and a Father. 
I hope, that she, and you and me, read the words, the verses below, and cling to these in our day-to-day lives. I hope that we find comfort, peace, and strength from their offerings.
"If my people, who are called by my name, will humble themselves and pray and seek my face and turn from their wicked ways, then I will hear them from Heaven." 2 Chron. 7:14
"And pray in the Spirit on all occasions, with all kinds of prayers and requests. With this in mind, be alert and always keep on praying for all the Lord's people." Eph 6:18
Then you will call on me and come and pray to me, and I will listen to you." Jeremiah 29: 12
"Is anyone among you in trouble? Let them pray. Is anyone happy? Let them sing songs of praise." James 5:13
"I call on you, my God, for you will answer me; turn your ear to me and hear my prayer." Psalm 17:6
"Be joyful in hope, patient in affliction, faithful in prayer." Rom 12:12
"The lord is near to all who call on him." Psalm 145:18
"Do not be anxious about anything, but in everything by prayer and petition, with thanksgiving, present your requests to God." Phil 4:6
"Pray continually." 1 Thess. 5:17
The verses go on, and on, and on. I hope that we glean truths from these verses and understand the responsibility, privilege, and hope found in prayer. Prayers that are continual,prayers when we are not only in trouble but also when we are happy, presenting our prayers with thanksgiving, and with of all kindsof prayers and requests.
Growing up, I often had people comment or joke that I told my parents, more specifically my mother, too much/everything. While in some ways this is embarrassingly true, in other ways, I think I was open with my parents because of their examples of communication. Throughout my childhood, my parents taught me, about the continuous prayers and the "all kinds of prayers and requests", but more importantly, they demonstrated this in their daily lives as well, even when it was on a quiet Mississippi road on the way to school. Through teaching and displaying to me the open communication between them and their Father, I not only grew to appreciate prayer and its open communication with God, but I grew to understand and appreciate open communication with my parents. 
As a parent now, I desperately want my child to grow up knowing that she can have open communication with me, communication of all occasions and requests. Yet, I do not think that I can expect or adequately teach about open communication if I am not first teaching and adequately showing her what open communication looks like, if I am not living out a daily dyad between a daughter and a Father.
I pray for my daughter on a daily basis. I pray for the friends that will encourage her, the teachers that will instruct her, the spouse that will love her, and for her eternal relationship with the Father that created her. 
Yet, today, on this most special opportunity, I will pray that she grows to love and pursue this communication, that she is faithful in prayer,  and that she prays for not just herself, but for all of the Lord's people.
I pray that the best advice she ever receives is about prayer, its frequency and power, and that the daily dyad between a daughter and a Father impacts her life the most abundantly. 
Happy National Day of Prayer, friends. May you celebrate the joy found in this day and the gift of daily talking with Jesus.